Our Managing Partner, Thomas Poulsen, successfully defended his PhD "Logistics in Offshore Wind" on August 21, 2018. The PhD is highly relevant for Panticon because it combines our knowledge in our focus sectors.
Brief summaries of the phd
8 brief reports have been created to summarize the main findings of the global wind energy shipping and logistics PhD research project. The project produced 8 academic articles and a PhD thesis during the 5-year lifespan from 2013 through 2018.
The PhD project was conducted by our Managing Partner, Thomas Poulsen with support from industry and researchers around the world. The 8 brief reports will each cover a key take-away from the PhD project and the brief reports have been written with support from industry and in a language which is not academic.
Receive the 8 brief reports free of charge by clicking here.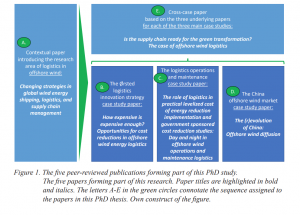 The PhD thesis is about offshore wind and focuses on logistics, broadly defined. As such, the research pertains to the offshore wind supply chain from the perspective of transportation and logistics tasks on land, through ports, at sea, and in the air. In addition, the research has dealt with logistics costs seen in relation to levelized cost of energy throughout the entire lifespan of an offshore wind farm project. The research has also dealt with the globalization of the offshore wind market, using China as the main example.
The results of the research have shown that logistics makes up a significant cost item within offshore wind. The results also revealed that it is important to organize logistics in an effective manner within those firms and organizations participating in the offshore wind industry. The eight academic articles which have been published as part of the PhD research project have been framed in the context of strategic management as well as the mergers & acquisition efforts forming part of the offshore wind industry as the market consolidation intensifies.
The research has been conducted in close collaboration with a series of leading offshore wind organizations and companies. The research was funded by Aalborg University and the Danish Maritime Foundation (Den Danske Maritime Fond) through grant number 2012-097.
Published: 2018
The following academic articles have been crafted as part of the PhD research of our Managing Partner, Thomas Poulsen.
Abstract
This research presents an industry level gap analysis for Chinese offshore wind, which serves as a way to illuminate how China may fast track industry evolution. The research findings provide insight into how the Chinese government strongly and systematically decrees state-owned Chinese firms to expand into overseas markets to speed up learning efforts. Insights are offered regarding the nation-level strategic plans and institutional support policies mobilized by China in order to be able to conquer market shares internationally by building a strong home market and then facilitating an end-to-end and fully financed export solution. This is interesting in itself and in particular so because it now also includes complex billion-dollar megaprojects such as turnkey offshore wind farm assets with an expected lifespan of 30+ years. Research findings are provided on how European and Chinese firms may successfully forge long-term alliances also for future Chinese wind energy export projects. Examples of past efforts of collaboration not yielding desired results have been included as well. At policy level, recommendations are provided on how the evolution of the Chinese offshore wind power industry can be fast-tracked to mirror the revolutionary pace, volume, and velocity which the Chinese onshore wind power industry has mustered.
Published: December 2017
ABSTRACT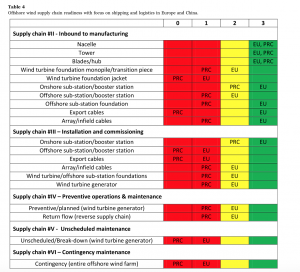 The transition from fossil fuel-based energy systems to renewable energy systems is a cornerstone of the green transformation to decarbonize our economic systems and mitigate climate change. Given the urgency of effective climate change mitigation, renewable energy diffusion needs to accelerate drastically. Among the many constraints to renewable energy diffusion, the important role of the supply chain is often overlooked. Therefore, this article addresses the role of the supply chain in the renewable energy diffusion process. Using the offshore wind energy sector as a case, this article presents an analysis of supply chain readiness to ascertain the role of the supply chain in the green transformation. Examining Europe and China mainly within offshore wind logistics, the research findings show that this segment of the supply chain constitutes a key bottleneck for accelerated deployment. For Europe, the key findings indicate that legislation for offshore wind beyond 2020 is necessary to ensure the implementation of the required investments in logistics assets, transport equipment, and personnel. In China, the key findings indicate that the Chinese supply chain of wind energy is mainly organized around onshore wind. Key bottlenecks exist, predominantly in logistics, and this article identifies specific areas of the supply chain where international collaboration and knowledge transfer may speed up deployment.
Published: June 2017
ABSTRACT
This paper reveals that logistics make up at least 17% of annual operational expenditure costs for offshore wind farms. Annual operational expenditure is found to vary by a factor of 9.5, making its share of levelized cost of energy for offshore wind range from 13% to 57%. These are key findings of a 20-month research project targeting cost reduction initiatives for offshore wind systems. The findings reveal that cost-out measures are difficult to implement due to cultural differences. Implementation efforts are rendered by personnel located offshore in a harsh sea environment which is in stark contrast to the shore-based office personnel who develop studies directing cost reduction efforts. This paper details the company motivation to join industry-wide cost reduction initiatives. A business case for offshore wind operations and maintenance logistics yielding 1% savings in levelized cost of energy is included on how to expand working hours from daytime to also work at night.
Published: April 2017
ABSRACT
This paper reveals that logistics may conservatively amount to 18% of the levelized cost of energy for offshore wind farms. This is the key finding from an extensive case study carried out within the organization of the world's leading offshore wind farm developer and operator. The case study aimed to, and produced, a number of possible opportunities for offshore wind cost reductions through logistics innovation; however, within the case study company, no company-wide logistics organization existed to focus horizontally on reducing logistics costs in general. Logistics was not well defined within the case study company, and a logistics strategy did not exist. With full life-cycle costs of offshore wind farms still high enough to present a political challenge within the European Union in terms of legislation to ensure offshore wind diffusion beyond 2020, our research presents logistics as a next frontier for offshore wind constituencies. This important area of the supply chain is ripe to academically and professionally cultivate and harvest in terms of offshore wind energy cost reductions. Our paper suggests that a focused organizational approach for logistics both horizontally and vertically within the company organizations could be the way forward, coupled with a long-term legislative environment to enable the necessary investments in logistics assets and transport equipment.
Published: June 2016